Introducing the black arm
The Black Arm is a hard-mount three-axis stabilizing system made for a variety of camera gimbals. 
The damping action of all axes; vertical, tilt and roll are created by custom-made actuator hydraulic dampers that are fully adjustable. The Black Arm Complete kit comes with an additional anti-vibration camera gimbal mount to absorb high-frequency fluctuations from road noise and engine hum.
The Black Arm is the film industry's standard for camera vehicle mounts. Purely mechanical – the Black Arm is easy to use and maintain. Mounting the Black Arm is as simple as clamping it onto a standard 48-52mm speed rail.
You can mount the Black Arm on a multitude of transporters and vehicles such as; dollys, cars, ATVs, boats, motorbikes, scooters, snowmobiles etc.
The Black Complete has a vast payload weight range; between 5-32 kg (11-70.5lbs). It ships with two sets of springs (7.0 & 7.5), and two sets of dampeners for each damper position (a total of 6 dampeners).
A 22-step knob enables you to precisely dial in the amount of damping you need for your shot.
Standard or Complete
The Black Arm comes in two versions. The Black Arm Standard is made to work for gimbals and cameras with a weight range between 5-13kg (11-28lbs). The Black Arm Complete is for users working with higher loads and carries between 5-32kg (11-70lbs). Of course, you have the option to upgrade the Standard version into a Complete, if desired.
The Black Standard ships with one damper for each of the three axes, while the Black Complete ships with a total of six dampers, allowing for dual dampers on each axis if needed, or as spares.
ANTI-VIBRATION MOUNT
Each Black Arm ships with one anti-vibration mount (AVM). The main purpose of the AVM is to reduce high-frequency vibrations, such as noise from a car's engine. In order to maximize the full efficiency of the AVM, you should always use the correct version that matches your load and conditions.

There are two types of AVMs, the original Wire AVM and the new Tranquilizer.
The Wire AVMs come in five different weight ranges and are very easy to use.
The Tranquilizer has many adjustments to fine-tune its performance and may give better results if you have the time and skills to configure it properly.
It's important that the system matches the total weight of your camera build (gimbal, camera and accessories) you will hang on to The Black Arm.
Wire AVM weight ranges:
---
The Wire AVMs are available in five different weight ranges. Pick the one that best match your rigs total weight.
No.01 – 7-10 kg (15-22 lbs)
No.02 – 10-14 kg (22-31 lbs)
No.03 – 14-19 kg (31-42 lbs)
No.04 – 19-26 kg (42-57 lbs)
No.05 – 26-34 kg (57-75 lbs)
Tranquilizer weight ranges:
---
The Tranquilizer ships with two sets of polymers, the shore 30 and shore 40. The rest of the packs are sold separately.
Shore 20 weight range: up to 5.40 – 10.75kg
Shore 30 weight range: up to 6.70 – 13.25kg
Shore 40 weight range up to 11.25 – 22.50kg
Shore 50 weight range up to 13.75 – 27.50kg
Shore 60 weight range up to 19.00 – 34.50kg
FLIGHT CASE
The Black arm ships in either of two different flight cases. The Standard case is a traditional flight case with wheels, metal corners, surface handles and pad-lockable draw-bolt catches. It has a white interior foam so that you can easily find screws and gear inside the case.

The optional Pro Case is made in all-black, to perfectly match the Black arm. It features powder-coated black metal corners, heavy-duty recessed handles and butterfly catches. It also has wheels, so you can roll the case just like a cabin bag. To match the clean exterior, the foam in the Pro case is all black.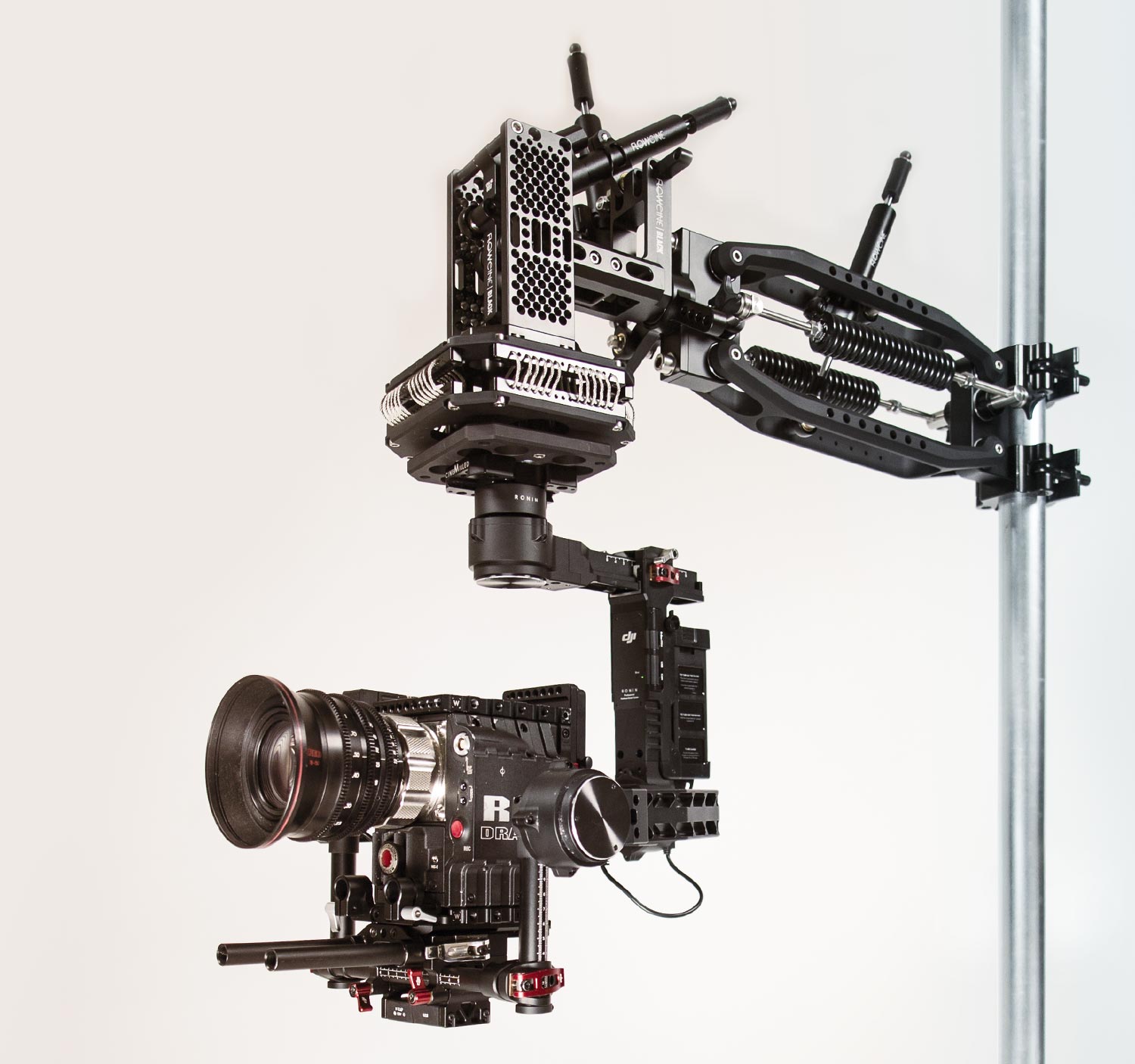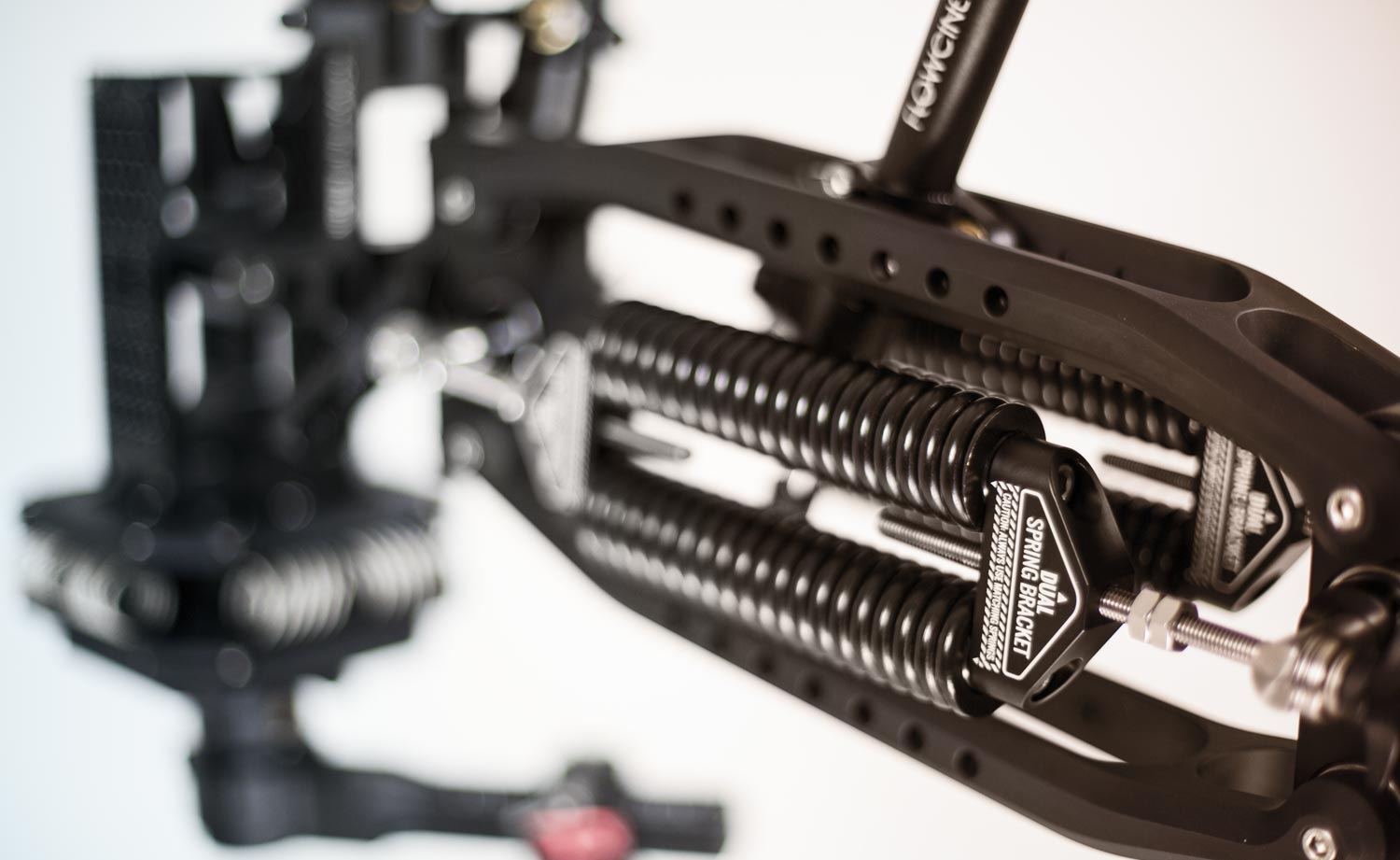 MOUNTING OPTIONS
There are a variety of options and configurations for The Black Arm including a new hard front nose mount which improves the safety and handling of motorcycles when riding with The Black Arm and new Dual Arm Adapter which is currently in development.  
Mounting the Black arm is as simple as clamping it onto a standard 48-52mm speed rail. You build a rig onto your vehicle, using standard grip components like speed rail and dual clamps or by using our Universal Rack or Stub Mount.
There are several ways to attach your gimbal to the Black arm. The included base plate has hole patterns to match the Freefly Toad in a Hole and Cinemilled Universal Ronin mount for easy attachment of the MoVI Pro and Ronin gimbals. We also make a Mitchell female mount for gimbals that uses the Mitchell connector.
On each side of the Black Arm's head, there are cheese plates suitable to mount batteries or Kenyon Gyros on.
CUSTOMISE YOUR BLACK
Put together a customized package to suit your exact needs by picking the version of the arm and the vibration mount you need:
1. CHOOSE YOUR BLACK VERSION
Black Standard takes 5-13 kg (11-28 lbs)
Black Complete takes 5-32 kg (11-70 lbs)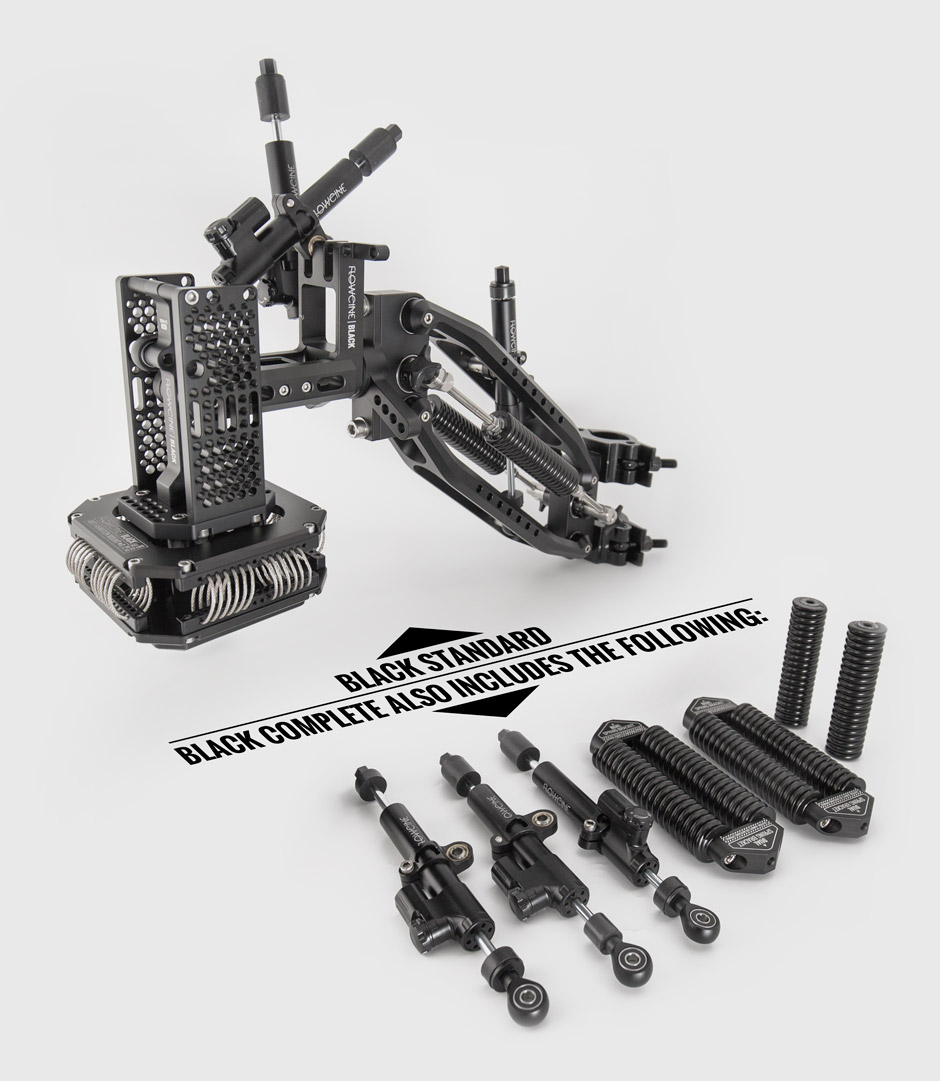 2. CHOOSE YOUR ANTI-VIBRATION MOUNT
Choose between the Wire AVM or the Tranquilizer: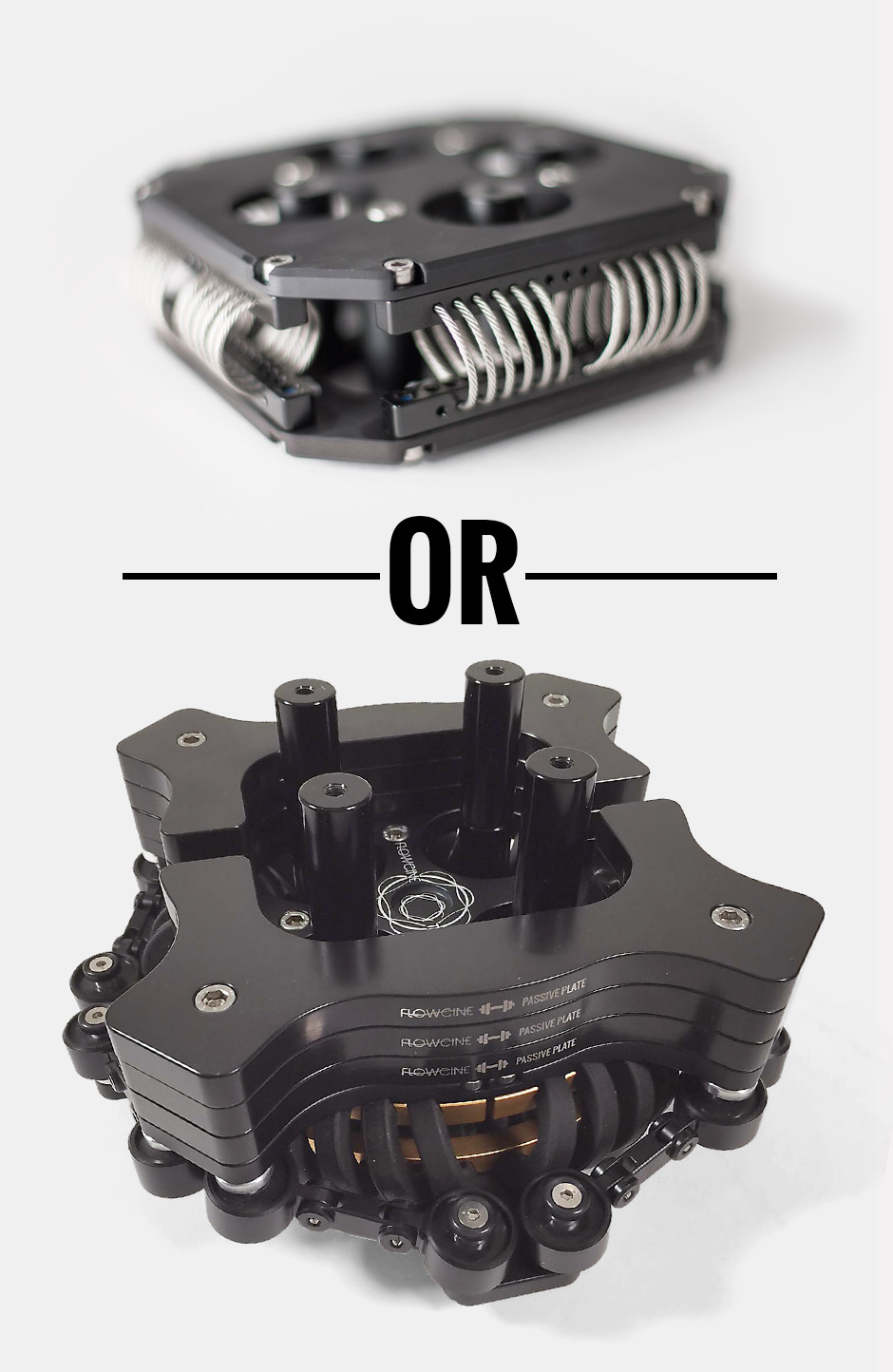 Below are the answers for the most frequently asked questions. Need any other info? Send us an email!
I have a DJI Ronin 2. What will I need to mount it to the Black arm?
In short, nothing, you're good to go!
If you intend to use the Ronin 2 with its batteries mounted on the gimbal, instead of having the batteries connected via extension cables, we recommend the 100mm Front Extension Block to make some room for the gimbal to swing.
I have a Freefly MoVI (M5, M10, M15, Pro). What will I need to mount it to the Black arm?
I have a Freefly MoVI XL. What will I need to mount it to the Black arm?
For the Freefly MoVI XL we recommend the Dual Black, which is specifically designed for that gimbal.
However, the MoVI XL can be used with a Black Complete as well. You'd need the 300mm Front Extension Block, and a Female Mitchell mount.
Be careful, and make sure to not overload the arm!
I have a DJI Ronin 1. What will I need to mount it to the Black arm?
I have some other kind of gimbal. What will I need to mount it on to the Black arm?
If your gimbal has an option for Mitchell mount, have a look at our Female Mitchell mount. If none of the options above applies to your gimbal, send us a mail and let us know which gimbal you use, and we'll try to come up with a solution!
I have the Cinemilled Universal Mount for Ronin 1. How do I put that on the Black arm?
There are several ways of attaching the Cinemilled plate to the Black arms base plate. You can either use two screws or four. The Cinemilled plate is longer on one side, and blocks two of the screws attached to the rods, but there is a easy way to access those. Depending on if you are a multi gimbal facility or a Ronin only (The Universal Cinemilled plate will work both for the Ronin and the Ronin-MX btw, so you can use the same plate, according to the info we got from both Cinemilled and DJI). You will use one of the following options, one quicker and one more rigid.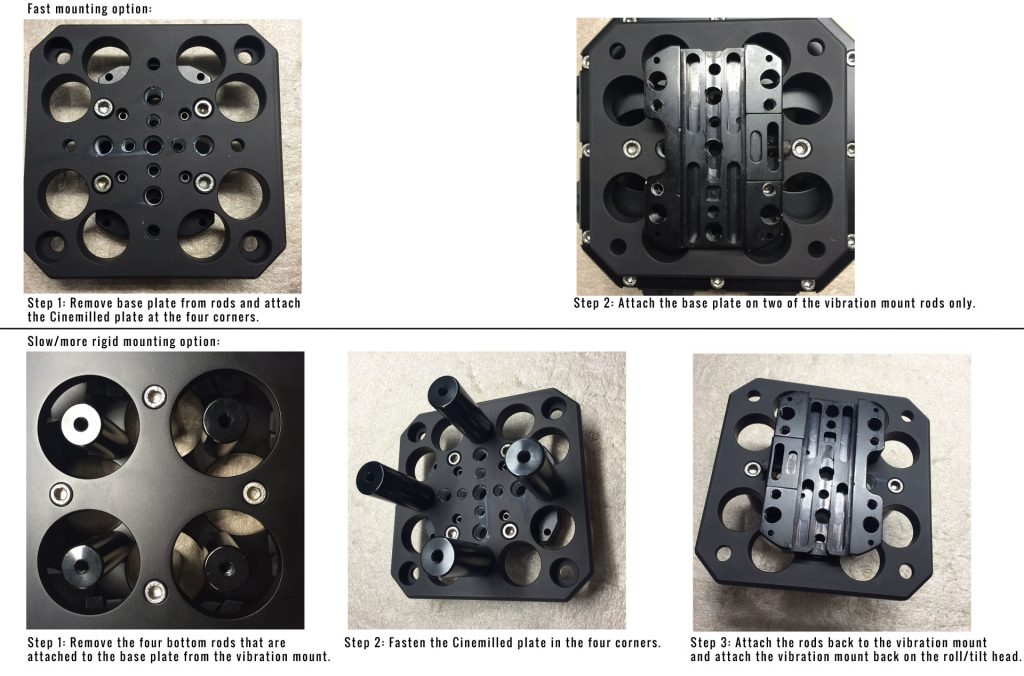 Note: Always use loctite or similar mild/medium thread glue at all times. There is an incredible amount of vibrations once on the road, and a screw might get un-winded in no time. Make sure to use threading glue on the Cinemilled plate screw! That ones will be the weakest point in the chain (do not use permanent/strong thread glue though!).
I have the Maxima MX30. How can I best mount it to the Black?
DEMO FOOTAGE:
We took the Flowcine Black arm and the Intuitive Aerial Newton gimbal over to our friends at Malibu boats and helped them with their annual shoot. Here's an edit of a few of the nice moments, showing the arm at work, and the footage. If you're interested in learning more about the rig, check out an interview with the Malibu Boats video production manager Charles White.
MADE WITH BLACK:
Here are a few examples of what our customers do with the Black. Thanks Alpine Aerials and eGarage for the great work, keep it up!
TEST FOOTAGE:
Have a look at some of our early tests, and inspiration! The movie was shot using four different mounting points, back and front on a regular car with roof rack and tow bar. We've used DJI Ronin with the RC joystick and a Red Epic and PL zoom lens. The shots are with various focal length between 18mm for lower close to ground shots to 45-50mm for the closeups on the driver. Most other shots are 25-35mm focal length. There are two versions, one with just the demo footage and one with the second camera included to see the arm in action.
Below are some inspiration on how to rig you Black arm in different configurations.
Specification:
The Black Arm